Home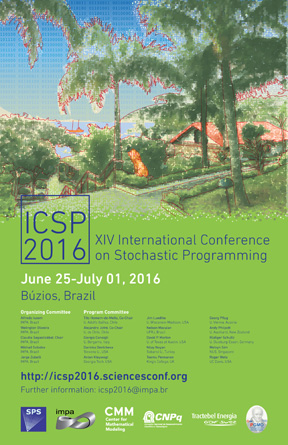 The XIV International Conference on Stochastic Programming will take place in Búzios, a charming town 160 km from Rio de Janeiro, Brazil, from June 25 to July 1, 2016.
A two-day introductory series of tutorials held during the weekend precedes the main conference to provide sufficient background in Stochastic Programming. The conference is developed over the next five week days with parallel sections, plenary talks from recognized leading researchers in stochastic optimization and a set of mini symposia, featuring recent contributions on state-of-the-art topics.
To keep registration fees low, we have negotiated preferential rates with hotel Atlântico for the lecture rooms, in exchange of certain minimal rooms occupancy. Hotel Atlântico Búzios is a deluxe resort by the sea, with an excellent restaurant. To encourage ICSP 2016 participants to choose hotel Atlântico for their venue, we offer two perks:
R$300 (≈US$80) discount in the registration fee for attendants staying in the hotel;
the negotiated hotel rates include also lunch, a very good deal!
Please consider staying in hotel Atlântico to help our organization!
Beware of the early submission deadlines; this is done to allow conference participants to make travel arrangements with anticipation, since prices may rise in 2016 due to the realization of the Olympic Games in Rio in August. The deadline for registration payment at early-bird rate is January 20th, 2016.

The ICSP is the premier event of the Stochastic Programming Society (SPS), a technical section of the Mathematical Optimization Society that brings together researchers who work on decisions under uncertainty. The 2016 conference will be the first one held in South America and will be jointly organized by Brazil and Chile.

ICSP 2016 is the closing event of SVAN 2016, a full trimester organized at IMPA on Stochastic Variational Analysis, click here for details on this thematic program.